Each year a large number of young people arrive in London to establish a foothold on their career ladder, only to discover that for many, their net income leaves them very little left over to enjoy the many cultural and leisure opportunities on offer. The cost of accommodation in London reached an all-time high relative to average earnings a few years ago and as such, many who arrive to find work have no choice other than to stay in shared accommodation rooms (HMOs) in their first few years.
And yet, despite the ever growing demand and rises in rent levels for good quality rooms, many HMO landlords – around London – are no longer adding to their portfolios and some are exiting the sector as increases in taxes and regulations make the business model, around London, more questionable – (for further info on HMOs, check articles in the PIN September edition).
Given all the above I was keen to discover, during a recent interview with west London based Sanjay Kumar, how he has been expanding his portfolio at a time when others are being cautious.
I met with Sanjay and his mortgage and finance specialist Karl Griggs of CPC Finance, to view one of his latest projects in West Drayton. The property in question is one of a number of HMO properties that Sanjay and his business partner Malkit Purewal have created in the local area as he (Sanjay) explains.
"I am a jeweler by trade, as are my family, and I have been doing property investing for over 17 years. I started out with some buy to lets and progressed to doing small developments for around seven years, with HMOs and more recently some conversions of commercial buildings.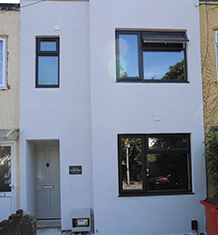 "We completed the work on this 5-bedroom property recently and it's now fully let to five individuals, all working tenants. When we bought the property it was in a very poor condition so we have had to do a lot of work to bring it up to the standards we set. The rooms are all en-suite and equipped with small kitchenettes but with no cooking facilities – that takes place in the separate communal kitchen area.
"We have adapted the building internally quite a lot from its previous use as a two-bed property, to create the five bedrooms with en-suites and without having to do an extension. Despite that, we still spent a significant sum, just under  £100,000 on the conversion to HMO usage and all the refurbishment works.
"We always try to think about the tenant's situation and what would we like to live in ourselves if we were in their shoes as young working professionals. So within the confines of space we try to provide the best experience. Our view is that no one wants to share a bathroom with strangers, so all our rooms are en-suite.
"Yes there is a compromise with space here, but this is what people want in our experience in our area. We have been doing this for many years and find that it works. We have a WiFi router for Internet, and decorate to the latest colour trends. Most of our HMOs have six bedrooms with slightly larger rooms and kitchens than this one, apart from the rear garden room here, which is larger and therefore achieves a higher room rent. With our six-bedroom HMOs you have to provide two cooking hobs not one and also two sinks to be compliant with the regulations."
The mention of regulations for HMOs prompts me to ask Sanjay about local area planning restrictions and council tax banding. He responds: "This one does not fall within an Article 4 area but we do have other HMOs in other locations where this applies. But an issue that is of increasing concern for landlords is where HMO rooms in some locations are now being 'banded' as Band A. This comes from the Valuation Office and it then means each room occupier gets a council tax bill, not just the whole house, as is the case with this HMO where we pay one council tax bill."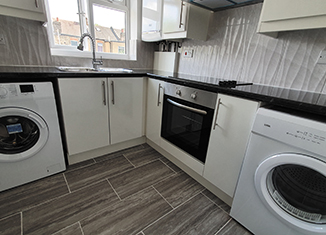 The location of this property is not far from the station at West Drayton, which should from late-2020 be on the Crossrail (Elizabeth) rail route, and Sanjay explains more. "There is a lot of regeneration going on around here as a result of Crossrail and some big companies have moved in and also some large property developments are happening. We can provide rooms at a cost which is affordable and just a short walk to the station."
Clearly the short walk to a Crossrail station is something which helps attract tenants so I ask Sanjay about rents and tenant demand. "Demand is solid and we typically get £650 per room per month and in total the gross rental income on this property is approximately £39,000 per year.
"We have seen a change in tenant profile in the last few years, relating to Brexit and less tenants from the EU as some are deterred by what has been happening. A typical stay is about six months but on some of our properties we get people staying for a year or longer."
Karl Griggs from CPC Finance has worked with Sanjay and his business partner for a number of years as they have expanded their property portfolio. He explains the process when financing the HMO. "They purchased the property for £280,000 on 8th March 2019 and converted it from a two-bed, mid-terraced house into a five-bed licensed HMO at a cost of approximately £100,000, and they had borrowed 85% of the purchase price. On completion of the works schedule it was re-valued at £500,000 so they then remortgaged recently with the same lender, switching from the initial short-term (bridging) loan to a term facility without incurring any ERC's or new lenders arrangement fees to the level of 75% i.e. a loan of £375,000."
Sanjay explained that a similar property in the same street had sold for £410,000 quite recently, which demonstrated their purchase price at £280,000 was good, albeit with a property which as the 'before' photos highlight, was in a poor condition. However the new valuation of £485,000 underlines that this figure is based much more on the commercial side via the rental income from the five bedrooms.
"This is what we always try to do and as such we can then recycle our funds after a refinancing. We look at the purchase price, our costs and the likely end GDV (gross development value). If there is something about to occur nearby which will be likely to boost the value in the near future i.e. Crossrail, then we will consider to 'park' our money for a while knowing that the return will be boosted."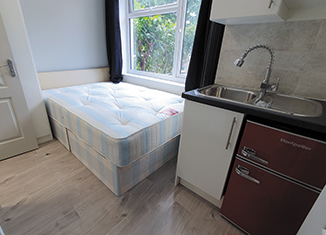 What was said next demonstrates the value of how landlords working with an experienced mortgage and finance consultant can really help as Karl Griggs explains. "When they come across a potential deal and view a property I am then emailed all the documents by Sanjay to get my opinion on the viability. They will send me the schedule of works, the before and after floor-plans and their expected rental income. We have worked with Malkit and Sanjay for quite a few years now and in the office they are referred to as 'M & S', – and yes, sometimes they have provided me with food and drink but never clothing!
"So when I receive an email from them about a potential deal I can assess the financials and compare lenders' current products to then assess what will be their financing options and as such this then helps them to set a ceiling for their purchase price offers."
Sanjay then explained how they work with CPC Finance and Karl at property auctions. "We buy regularly at property auctions and sometimes he (Karl) will be with us in the room, but if not, then one of us will be on the phone to him while we are bidding live at the auction. Obviously we do our own research prior to an auction to determine our bidding parameters by checking previous sold values and likely rents that can be achieved etc. The team we have includes other specialists who help with their assessments, such as the solicitor who Karl introduced us to and who thoroughly checks the legal pack for each property we intend to bid on in advance of the auction."
Karl then added in his thoughts about time and money when doing deals and the perceived cost of using short-term finance. "It's important to note that 'time is money' and on this deal, which was only acquired in March this year, from purchase to refinancing it after works completed has taken just five months.
"Many people have a perception that short term (bridging) finance is very expensive. If you use it the way that Sanjay does and choose the right product with a specialist lender then it can work very well. In fact I would suggest people consider that the cost of not being able to do deals can often far outweigh that of using the increased number of short-term finance products that are now available.
"They might well have three or four projects on the go and then suddenly a great deal comes along which they do not want to miss out on. Obviously if their builders are all tied up with existing work that is an issue but being able to use short-term bridging finance enables them to take on more deals."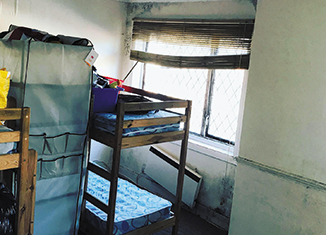 Sanjay explains more about how he sees their strategy and using bridging: "Yes we have our own build team, two teams, although we don't directly employ them they work with us full-time and that works well as does the way we work with CPC and the bridging finance route. There are a lot of landlords who have been doing conversions to HMOs using standard buy-to-let finance and who then try to switch to a different finance product. It's definitely not the right way to do it and it's ever more risky. You can get struck off from any further borrowing by lenders if they discover that you have provided false details. Lenders now get notified by councils about HMO licencing approvals and planning applications etc. – all of which is openly on the public record."
Karl adds: "This project was financed through Shawbrook Bank and is a specific product which, when done correctly works very well. On this one it was four months, the initial funding was provided, the work was done and then the valuer is sent back out to verify that what has taken place with the conversion/refurb accords with the original submission to the lender.
"There was no arrangement fee, no legal fee, etc., with the second stage switched to the long-term finance product. What people should take note of when assessing their financing options is that most buy-to-let products have redemption fees so when you add it all up, doing it the 'wrong way' with conversions is no cheaper and in some cases can actually be more expensive. This particularly applies where people are looking to move onto 'commercial finance' terms with valuations relating to rental income from specialist lenders."
As anyone who has experienced managing multiple tenants in shared accommodation will know, the management side is crucial on an ongoing basis to ensure that voids are minimal and issues with tenants and maintenance are dealt with efficiently, so I ask Sanjay about this, given the number of properties that they have. "We now have our own in-house team and also a partnership with a local agency (Regent Estates) who we joined up with a year ago."
As mentioned earlier, Sanjay is doing other developments including some conversions of redundant office blocks.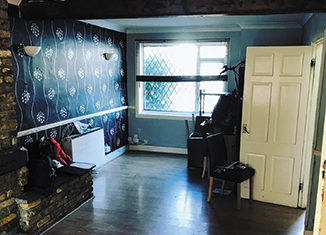 He explains further: "We have done a few locally using PD (permitted development). One of the first was in West Drayton, and we paid approx. £300,000 and turned it into a two-bed house and four flats. It was an office but on a residential road. On that one there were some planning issues to identify the status but it worked out well in the end.
"Another one was an ex-car showroom, from memory at £500,000 and we turned it into a coffee shop on the ground floor and with three flats on the upper floors. It was something different and we learn lessons with each one we do."
Karl then made some pertinent observations about an investment trend that I have noted myself and which some people outside of the south-east region have not yet seen apply in their own area. "With the government changes towards discouraging the growth of buy-to-let, we have not seen the same enthusiasm for commercial conversions to split and sell units onwards around London as we saw a few years ago. What we are seeing is people looking at longer term strategies such as converting to rent or mixed use as with Sanjay's coffee shop mixed use project he mentioned earlier."
And so to conclude our meeting, I ask about the projects that 'M & S' are involved in now, to which Sanjay replies: "We are currently doing some quite interesting work at a small number of houses in a location near the M25 where we have been able to buy at what might be seen as a deep discount in comparison to other properties of a similar size in that area. The reason for the low price is that these properties are non-standard construction and we are then doing the appropriate works to make them mortgageable and convert them into HMOs."
If you would like to watch the video interview of the topic, you can also do so on our blog.